Carlson Gracie Tucson
Instructors
At Carlson Gracie Tucson we are a family, and our school is bound to become our students' second home. We are a judgment-free zone, where mistakes are viewed as growth opportunities and your instructors and fellow students are your #1 supporters. You'll learn a lot of impressive skills and gain many new abilities at Carlson Gracie Tucson, but the most important thing you'll acquire during your time here? Our community.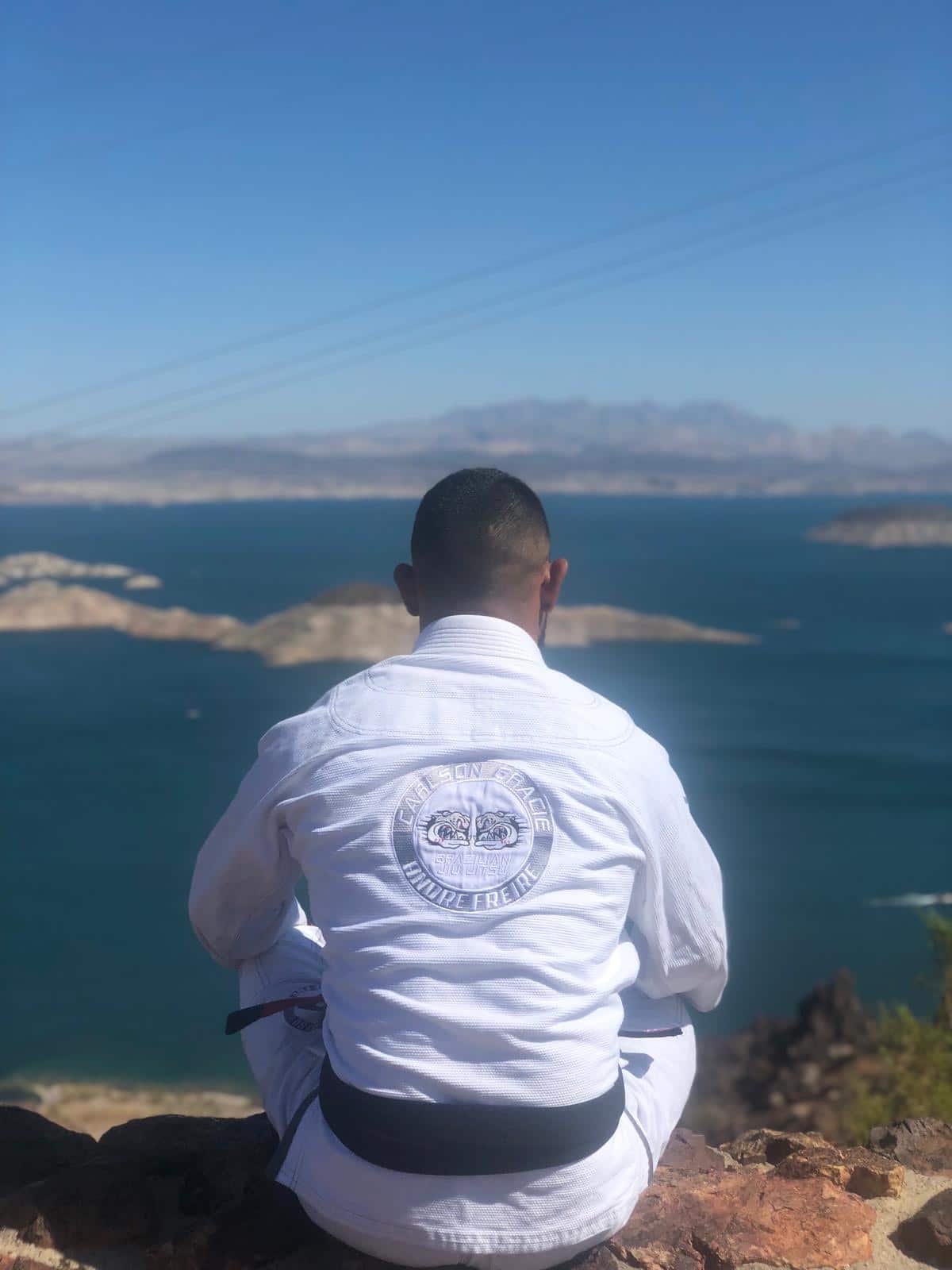 Biography
André Freire is a bonafide Brazilian with a 3rd-degree black belt in Brazilian Jiu-Jitsu, who has extensive teaching experience and who enjoys sharing his skills as he teaches both children and adult classes in Brazilian Jiu-Jitsu.
André believes that respect is an important value in life and that you must give respect to get respect. To André fighting and competing teaches respect. He also believes that being a martial artist isn't just about winning or losing, but rather, it's about controlling your feelings and centering yourself, so much so that nothing can disturb your mind. And when the fighting is done, or the competition is over, he believes it is giving and showing respect to and for the others who had the courage to step onto the battlefield; thus, developing their warrior spirit.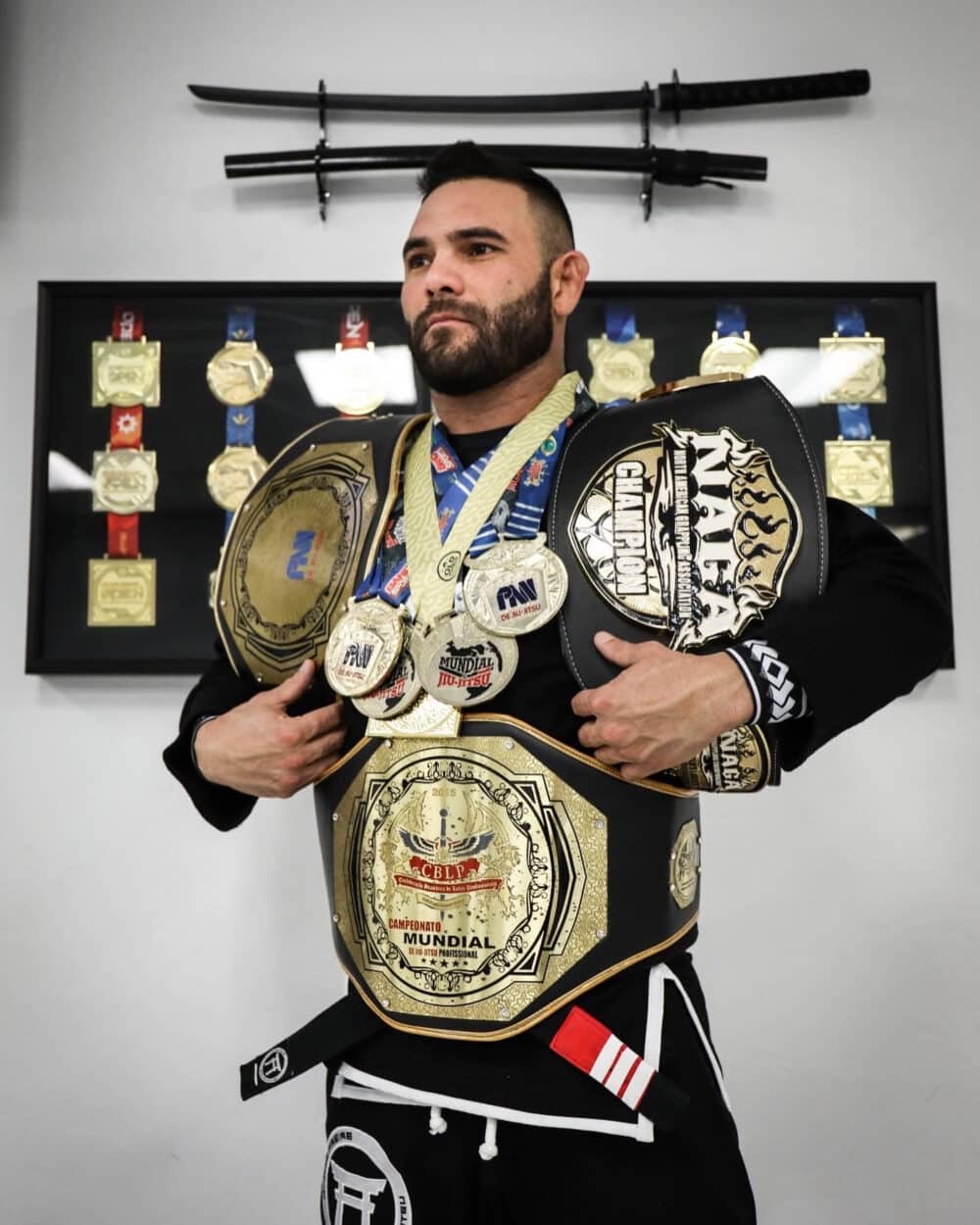 Learning Martial Arts and Jiu-Jitsu
André began his career in martial arts when he was 6 years old, starting in karate and capoeira. When he was 17, he started to practice Jiu-jitsu no-Gi in MMA classes and at 18 he started Jiujitsu with Gi in the most traditional team in his state of Ceará – Brazil led by Coral belt Master Sazinho Sá. In 2007 as a purple belt, André started teaching Jiu-Jitsu. He became a black belt in 2012 the same year that he completed his degree in Physical Education from Universidade de Fortaleza (Unifor) in Brazil.
Becoming a World Champion
The following year of 2012, André married his wife, Thaisa. He also competed in his first MMA competitions—the biggest championship competitions in Brazil, where he became 3x World champion, Pan American and National by CBLP, and won titles from CBJJE (a.k.a. the Mundials, which is the most prestigious Brazilian Jiu-Jitsu tournament in the world) and CBJJ.
In 2017 André came to the USA for the first time, where he won the championship title in the NAGA Las Vegas competition and competed for the first time in the World Masters. The following year of 2018 André moved to the U.S. with his wife, looking to compete in the biggest competitions in the world, which are currently taking place in the United States. December of the same year, his daughter Lunna was born, and André joined the Carlson Gracie Team under Professor Manny Soares in South Florida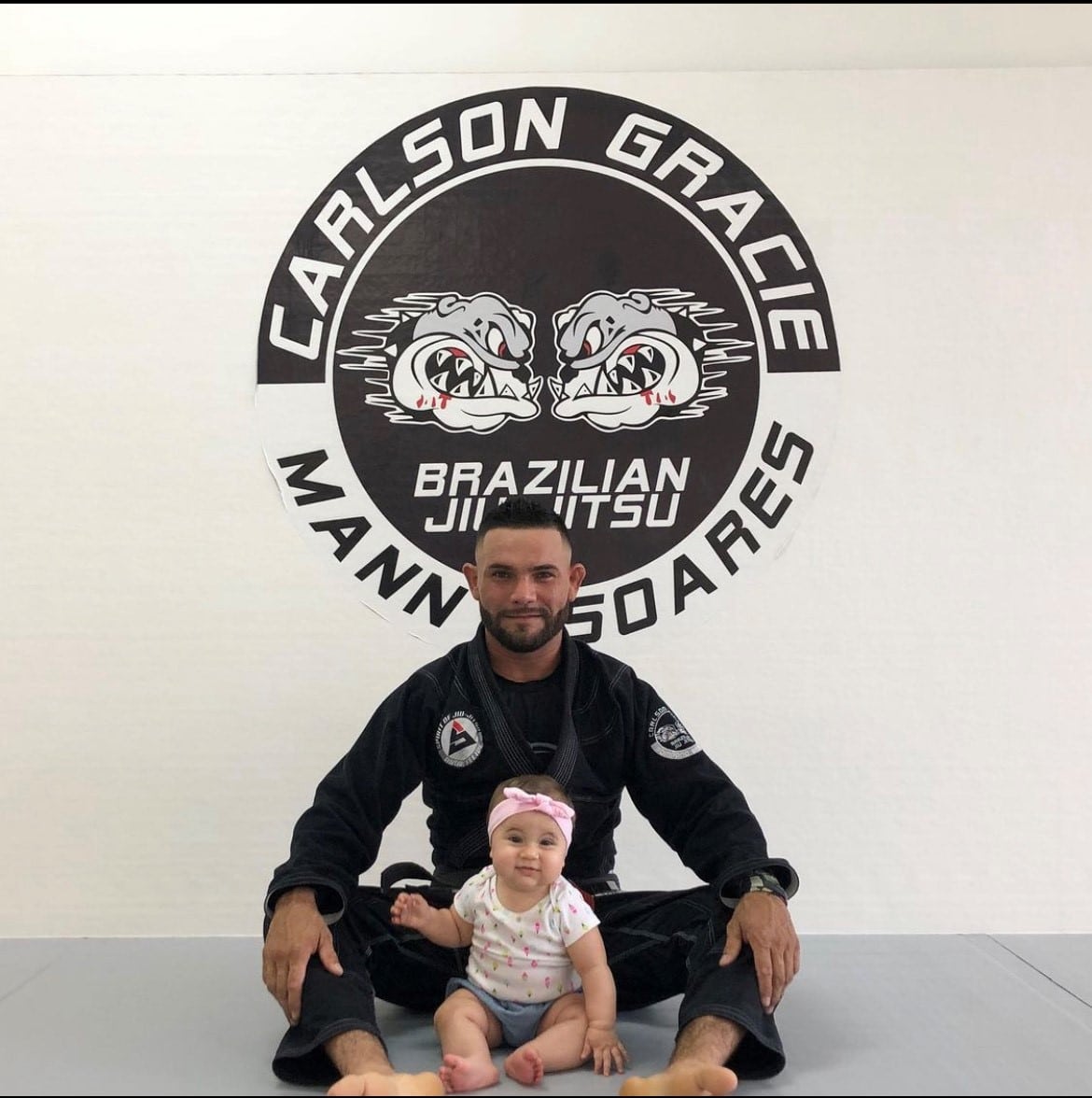 Moving to Tucson, AZ
After 2 years of teaching and competing in Southern Florida André moved his family to Tucson, Arizona in 2020. Here in Tucson, he started teaching for the Gracie Barra Team, where he spearheaded and started up their successful competition team. In André's last 4 years in the US, he has won more than 20 gold medals in multiple competitions, including state competitions across the U.S. and international Opens. He also won the bronze in the biggest event in the world, the IBJJF World and Pan.
Today André brings to Tucson, AZ, his extensive worldwide competing and teaching experience. As a Brazilian Jiu-Jitsu instructor, who has taught and coached both children and adults, André's Degree in Physical Education (UNIFOR), post-degree in Martial Arts (UECE), his many years of experience as a competitive athlete and more than 20+ years of Jiu-jitsu practice as a 3rd degree black belt, André's skills and magnetic personality are a huge benefit to the Tucson Jiu-Jitsu community. André is very excited to be the Head Professor leading the 1st Carlson Gracie Tucson Academy and dedicating all his experience to the people of this community as a legit Brazilian Jiu-Jitsu black belt Professor.
"Leadership is not about being the best.
Leadership is about making everyone else better."
– André Freire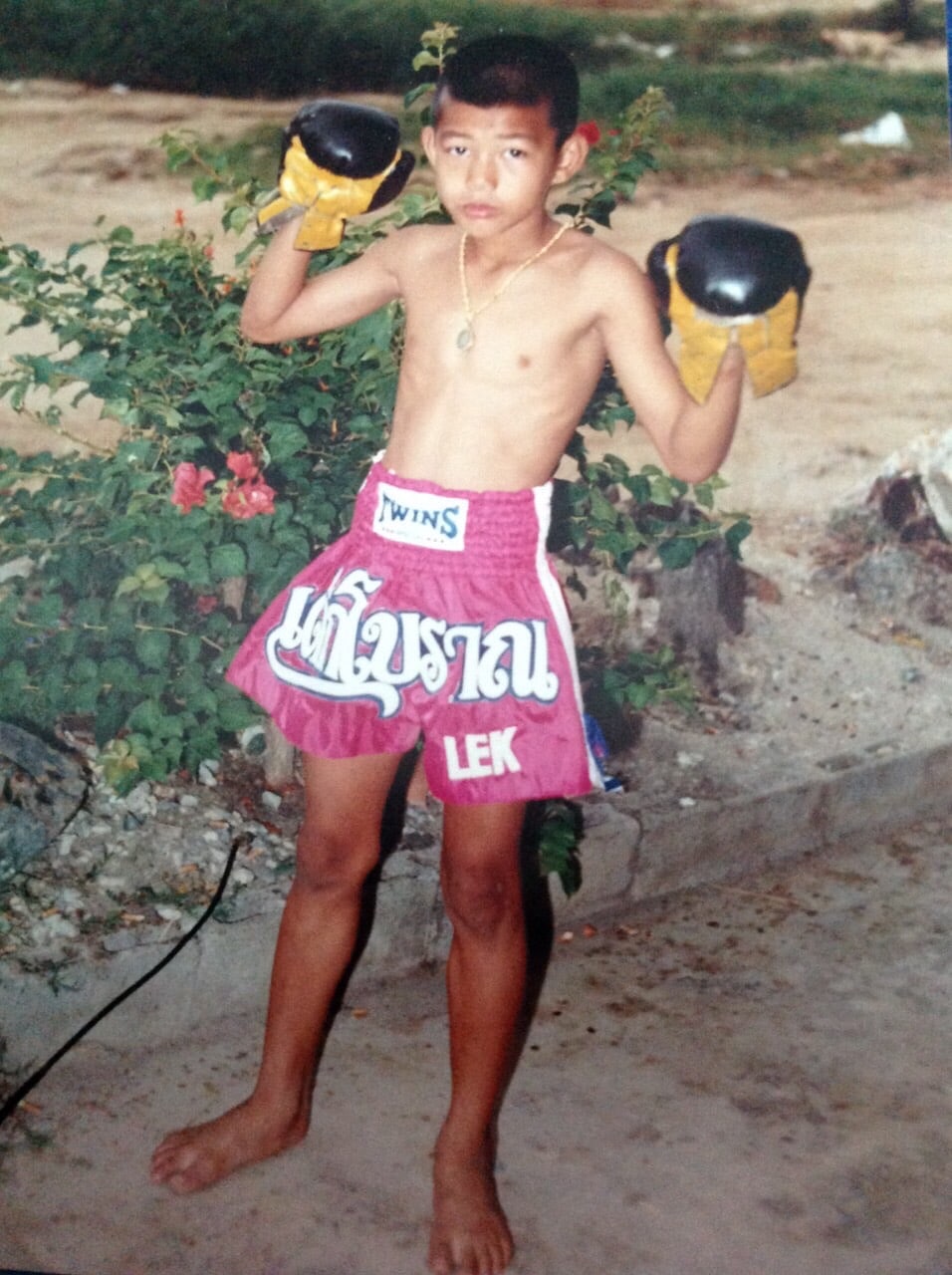 Introduction
Naruepon Fairtex is a highly decorated traditional Muay Thai fighter from Bangkok, Thailand. He is passionate about his craft and sharing his skills through teaching youth and adult Muay Thai classes. Naruepon brings 30 years of experience in competition and instruction of traditional Muay Thai.
Early Years
Naruepon started training Muay Thai when he was seven years old at Sakhomsin Gym in Bangkok, Thailand. As a young boy Naruepon had a small build and frame, frequently getting picked on by the other boys at his school. There was a Muay Thai gym on the route he walked to and from school and had stopped to watch when one of the trainers asked him if he wanted to give it a try. Naruepon learned the basics for 2 months. He had his first professional fight after three months and won in the first round by knockout. He continued to train every day and hone his skill set. Now his school friends were afraid to pick on him and Naruepon understood that he could fight to earn money for himself and help take care of his family. By the time he was eleven years old, Naruepon had already made a name for himself, fighting in local festivals as the main event. At fifteen, Naruepon had his first fight at the world-renowned Rajadamnern Stadium in 1999. Afterward, promoters lined up to put him on their cards, fighting many famous opponents. Naruepon spent the next three years going back and forth between Rajadamnern Stadium and the prestigious Lumpinee Stadium, among other big name promotions, earning the nickname "Tiger Knee".
Becoming a Champion
In 2002, at eighteen, Naruepon fought for the Lumpinee Super-lightweight title against Chokdee Por. Pramuk and won. He went on to win the Thailand Champion Super-lightweight title against Petnamek Sor Siriwat in 2003. In 2005, in a move similar to professional sports teams trading players, Naruepon signed on at the famed Fairtex training camp where he gained the nickname "Mr. GQ". He continued to train and fight in Thailand. Later that same year he fought Khunsuk Phetsupapan for the Thailand Champion Super-lightweight title a second time and won. In 2006 Naruepon took on Chaowalit Jockygym for the Thailand Champion Welterweight 147lbs title and won. In 2010 Naruepon dislocated his shoulder in a fight in France and took a 6-month break from fighting. His last fight in Asia was in 2012 in Hong Kong after which he spent the next few years traveling Asia and Europe teaching at various gyms in Hong Kong, Malaysia, Singapore, Italy, and France, most notably at Evolve MMA in Singapore.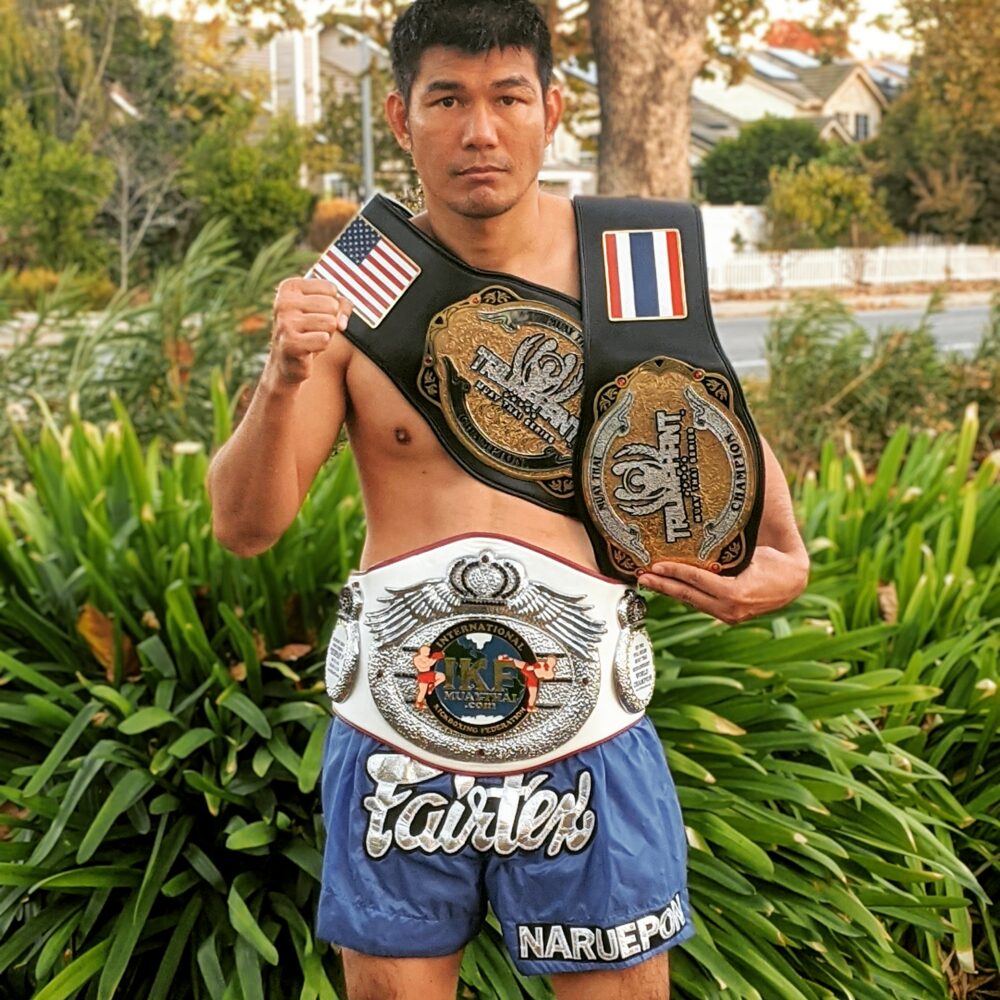 Reality TV Star
In 2008 the reality TV series "The Contender Asia" was hosted in Singapore. Naruepon was one of 16 fighters competing for $150,000USD and bragging rights as "The Contender Champion". He was eliminated in episode 9 in a match against his former teammate Yodsanklai Fairtex. He was later featured in Men's Health Thailand.
Becoming a World Champion
In 2015, Naruepon moved to Fremont, California, where he continued to fight, coach, and train fighters in the U.S. In 2018, he took on Eddie Farrell for the IKF Pro Full Rules Middleweight World Champion title and Triumphant Middleweight title and won by TKO in the fifth round. Naruepon has amassed an impressive fight record with well over 200 fights. 181 known wins, 53 by way of knockout, 46 losses and 5 draws. His technical skills in the ring have placed him in the top 5% of Muay Thai fighters in the world.
Coming to Tucson, AZ
After 7 years of teaching, coaching, and competing in the San Francisco Bay area, Naruepon made the move to Tucson AZ to pursue a new opportunity in teaching Muay Thai. He is very excited to be the head coach of his own Muay Thai program with Carlson Gracie Tucson and share his experience. Naruepon's skills and modest personality will be a great addition to the Tucson Muay Thai community.
When I began my Jiu-Jitsu journey, I knew nothing about the sport. I had no prior martial art experience and wasn't very athletic growing up either. I initially joined Brazilian Jiu-Jitsu in the summer of 2021 because I was interested in learning self-defense. Since then, Jiu-Jitsu has become such a fundamental part of my life, that I can't believe I survived so long without it! Brazilian Jiu-Jitsu has helped me get into the best shape I've ever been in, and it's given me the confidence and skills to defend myself. Not only that, Jiu-Jitsu has blessed me with a community of people who are encouraging and uplifting! These are the kinds of people I look forward to seeing and training with every day. Being surrounded by so many encouraging and hard-working teammates is such an inspiration, that I feel so blessed to train beside them. My teammates have pushed me to always try harder and they encourage me through the struggles. They've had a huge influence on my desire to compete, but it was really the drive and guidance from Professor Andre that helped me take that leap of faith and sign up for a competition. Professor Andre has taught me so much! He takes his time to really train students, he meets them at whatever level they are at, and works with them to strengthen their skills! Andre is truly the definition of a mentor. Jiu-Jitsu has pushed me to new levels, both physically and mentally and I wouldn't be where I am now if it weren't for my teammates and especially Professor Andre!
Professor Andre is a jiu-jitsu master and should be sought out if you want to be competitive within the sport of Jiu-jitsu. You'll gain a great amount of experience and will be instantly glued to his ability to make personal connections and passionate teaching style. My experience here has been full of positive reinforcement and encouragement while being surrounded by great impactful influences. It has been an honor to be on this journey with a world champion; Professor Andre, one that I hope will continue to teach for a lifetime.
Whether you are looking to get in shape, self-defense, enjoy the sport, or actively compete in Jiu-Jitsu, Professor André is the man to go to! While at Gracie Barra, he was able to shape me into a gold medalist within 4 months. He helped me lose 40 pounds and takes the time to shape everyone's game plan according to their body type. This success and passion for teaching follow within the kids. He comes to the competitions that the kids compete at so that they have their professor there to coach them through each fight. Classes, both kids and adults, are coupled with techniques that are simplified and broken down and commentary that brings smiles and laughter to the whole class! Professor André exemplifies what it means to be a black belt: kind, responsible, respectful, technical, trustworthy, consistent, and an inspiration to those around him. Thank you Professor André for changing my life in so many great ways!
Are you interested more in what Carlson Gracie Tucson has to offer you?
Special Offers